Practice Areas
Orange County Family Attorney
There is nothing dearer to you than family, and at Boyd Law, our Orange County family law attorneys understand that. That's why our law offices are proud to represent mothers, fathers, brothers, sisters, children, and grandparents in Orange County. Whether you are in the midst of a heated battle or simply looking to protect yourself from future issues, our Orange County family law lawyers can help.
The area of family law has many negative connotations associated with it, but can also be a mutually agreed upon separation that benefits both sides. However, divorce can also be hotly contested and full of headaches regarding child custody, child support, marital property, asset protection, and other family law matters.  Regardless of the type of family law case you are going through, an experienced family law attorney experienced in Orange County can help you navigate the legal system to ensure you are getting a fair outcome throughout the process.
Orange County Family Law Resources:
How Can an Orange County Family Attorney Help?
A highly qualified and experienced family lawyer in Orange County can provide you with everything that you need for a seamless legal experience. When you need a family law matter resolved effectively and efficiently – with your personal goals in mind – entrust your case to a family attorney. A family law firm will have exceptional resources and legal professionals who specialize in your type of case. An Orange County family attorney can offer the following services, and more:
Handling family law issues in a calm, objective manner.

Approaching an issue rationally and with reference to the law.

Answering your legal questions and protecting your rights during a family law case.

Increasing the odds of achieving a family law settlement through alternative dispute resolution.

Handling complex and emotionally stressful child custody agreements.

Dealing with a prenuptial or postnuptial agreement.

Representing you as a litigant in a family law trial, if necessary.
It is important to do your due diligence when selecting a family law attorney to represent you. Whether you wish to get divorced or you need assistance with another delicate family law matter, research your options to make sure that you hire the best attorney for your needs. Search for years of practice-area experience, a positive reputation in your community and excellent client satisfaction. Trust your instincts and hire the attorney that makes you feel the most confident. You should have a good feeling about the attorney representing you.
Why Choose Us?
We are experienced in family law and divorce matters. Boyd Law has been representing clients in family law cases and many other types of legal matters in Orange County and throughout California for many years.

Exceptional legal resources. We are not a boutique or small law firm. We are a fully equipped legal office that can tackle any legal issues that you face in a complex family law legal matter. Our entire legal team – complete with practice-area specialists – will work toward your case goals.

Certified Family Law Specialists (CFLS). Our legal team consists of multiple Certified Family Law Specialists – attorneys who have received additional education, experience and training in family law and are certified by the State Bar of California Board of Legal Specialization.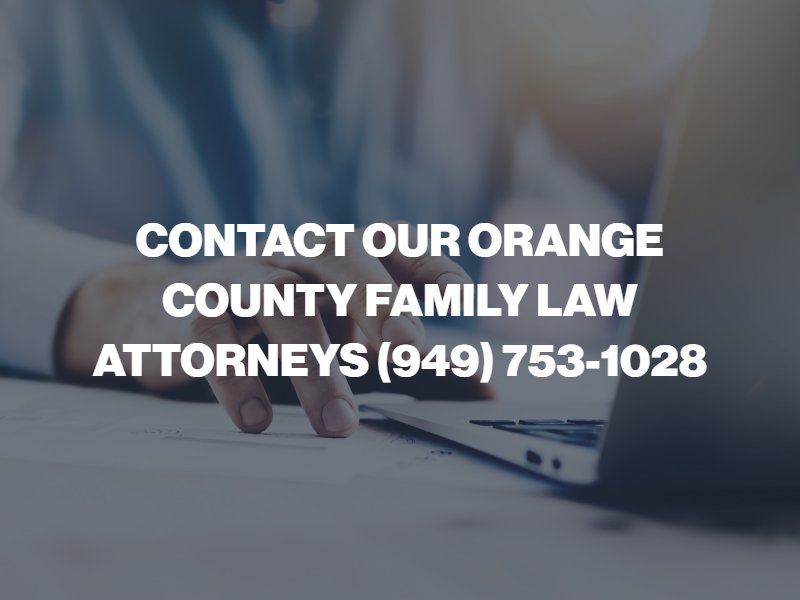 What Is a Certified Family Law Specialist?    
At Boyd Law, our lead attorney, Karie Boyd, takes her dedication to clients seriously. She is a Certified Family Law Specialist who was recently ranked by the National Association of Distinguished Counsel in the "Top 1% of Attorneys in the Nation." Our managing family law attorney, Matt Cadwell, is also a CFLS. A CFLS is an attorney who has obtained certification from the State Bar as a specialist in family law. This means that he or she has greater knowledge of this practice area than an uncertified attorney.
Before becoming a CFLS, an attorney must demonstrate proficiency in the area of family law. The lawyer must obtain the required experience and education in this legal field, as well as pass a written examination about family law. In addition, the attorney must continue to demonstrate a high level of experience and skill in family law to stay certified. The process of becoming a Certified Family Law Specialist is so rigorous that these attorneys are difficult to come by in California. Finding one to represent you can bring an exceptional level of expertise and service to your family law case.
Hiring a CFLS to represent you in Orange County can have several benefits. Having a certified specialist on your side can lead to innovative solutions to your complicated issues, such as high-asset property division or child custody. Your attorney will be a true expert in your type of case, making it easier to achieve your goals with less stress. If you're looking for an attorney who can handle multiple aspects of your family law case with ease, a CFLS is your best option.
How Long Do Family Law Matters Take in California?
Family law matters are often tense, with legal disputes between current or former family members. They can take time to successfully resolve. It is normal to wonder how long your family law case will take, as well as to look for ways to expedite the legal process as much as possible. At Boyd Law, we use proven legal strategies to resolve our clients' cases as efficiently as we can, while still protecting their best interests. We can estimate how long your specific family law matter might take during a free consultation.
It is difficult to obtain an accurate family law case timeline online, as each case is entirely unique. If you have a simple legal matter, such as an uncontested divorce where you and your former spouse both agree on all the major elements, it may take no longer than a year. Complicated or contested family law matters in California, on the other hand, can take multiple years from start to finish. Your specific timeline will depend on the issues and challenges involved.
While you may be eager to end your legal matter as quickly as possible, it is most important to protect your legal rights. At Boyd Law, we will do what it takes to pursue your case goals without wasting any time. We don't cut corners, but we also don't sit on cases or let them fall to the wayside. We understand the headache of a family law case and will handle things in a way that is both fast and fruitful. Your lawyer will stay in touch with you about the status of your case along the way, as well.
We Offer Our Services Throughout Orange County
Regardless of where you are located in Orange County, our attorneys well versed in family law are ready to help you through the legal process.
Contact Our Orange County Family Lawyers For a Free Consultation
At Boyd Law in Orange County, we take family law cases very seriously. Whether it's the ensuing issues of a divorce or the future protection of assets, our Orange County family law lawyers are ready to assist. We have years of legal experience and have solidified ourselves as one of the premier family law firms in Southern California. If you're looking for a skilled legal team that values personal relationships and compassion, we can help. Take a look at some of our client testimonials and you will quickly see why so many other people are choosing us.
For more information on how we can assist you, or for a free consultation, please call Boyd Law today at (949) 753-1028. Our team of highly skilled, professional family lawyers would be happy to review your case and provide you with a no-obligation analysis during the free case evaluation.
Frequently Asked Questions
How Much Does It Cost To Hire A Family Lawyer?
The cost of hiring a family lawyer can vary widely based on several factors, including the complexity of your case, the attorney's experience and reputation, your geographic location, and the specific services you require. Family law matters can range from relatively straightforward to highly complex, such as divorce, child custody disputes, property division, and more.
At Boyd Law, we do not operate on a contingency fee basis, meaning that we charge for the hours that are required to
How Can I File for Divorce in Orange County?
To file for divorce in Orange County, you must meet residency requirements and file the necessary paperwork with the court. Our attorneys can guide you through the process and ensure all legal requirements are met.
How Is Child Custody Determined?
Child custody is determined based on the best interests of the child. Factors such as the child's age, relationship with each parent, stability of each household, and the child's preferences may influence custody arrangements.
What Factors Determine Child Support Amounts?
Child support amounts are determined based on factors such as the parents' income, the number of children, custody arrangements, and other financial considerations.
Can I Modify Child Custody or Support Orders?
Yes, child custody and support orders can be modified if there's a significant change in circumstances, such as a change in income, relocation, or changes in the child's needs.
What Is the Role of a Mediator in Family Law Cases?
A mediator is a neutral third party who helps couples reach agreements outside of court. Mediation can be an effective way to resolve disputes and avoid lengthy litigation.
Do I Need to Go to Court for My Family Law Matter?
Not all family law matters require court involvement. Many cases can be resolved through negotiation, mediation, or collaborative methods. However, if an agreement cannot be reached, court proceedings may be necessary.
How Long Does the Divorce Process Take?
The duration of the divorce process varies based on factors such as the complexity of the case, the willingness of both parties to cooperate, and court availability. It can take several months to over a year to finalize a divorce.
Why Should I Hire a Family Law Attorney?
Hiring a family law attorney ensures that your rights are protected and that you have expert guidance throughout the legal process. An attorney can navigate complex legal procedures, provide strategic advice, and advocate for your best interests.
At Boyd Law, we're dedicated to providing comprehensive legal support for your family law matters in Orange County. If you have more questions or need personalized assistance, don't hesitate to contact our experienced family law attorneys. We're here to guide you through the challenges and complexities of your case with empathy, expertise, and unwavering dedication.